Dresden as well-known location for micro- and nanoelectronics and the highly recognized TU Dresden has initiated several R&D projects starting in 2000, which digitally connect the different traffic detectors, traffic control and traffic guidance systems of the state capital. The provided information is collected in a traffic data center. The traffic control is thus fully automatic, with optional manual interventions by operators in the control center of city administration.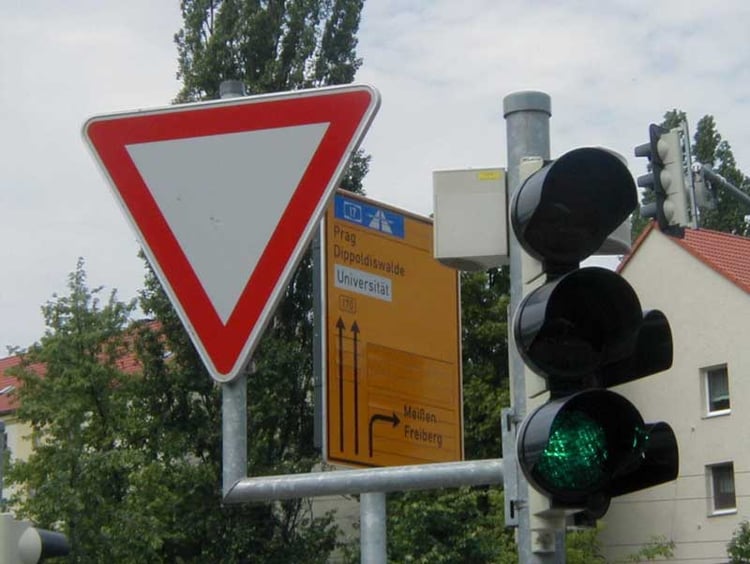 At a crossing on B170 federal highway. Source: Matthias Körner, TU Dresden
The sources of information transfer include infrared detectors, induction loops (for example at traffic lights or other traffic junctions), warning systems for slippery conditions and floating car data. The latter are supplied by a taxi-FCD system, which is used in Dresden and has a high detection density: The vehicle data is logged in very short intervals, such as the location of the vehicle and timestamp. In combination with other data sources, important information for traffic management can thus be generated, such as the current traffic situation for improved control of traffic flows, which provides decision-makers with a good basis for setting certain incentives for road users.
Incentives for the use of alternative means of transport on certain routes can also help to optimize traffic volumes, for example by making travel times by public transport shorter than those by private cars by giving preferential treatment at traffic lights.
However, the available data is not only advantageous for the city's traffic planning and control: the information can also be made available directly to road users, for example to warn them of icy roads, traffic jams, construction sites or impaired visibility (e.g. due to fog, heavy rain, etc.).
The pilot project VAMOS4B170
Years of experience of TU Dresden researchers have been incorporated into an upgrade of VAMOS. The new VAMOS4 architecture is currently being piloted for federal road administration on the B170 federal highway between Bannewitz and the Dresden city limits to ensure greater traffic safety and optimize traffic flow.
Matrix information panels will inform road users fully automatically about current traffic events, such as travel times, existing dangers like slippery roads, traffic jams and insufficient vehicle distances. Prioritisation of public transport depending on current traffic condition is aimed as well. New C2I technology will be tested.
More information is available at https://vamosportal.de